Air Hygiene Operative Course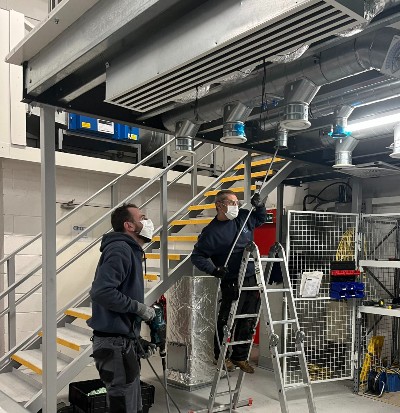 You might be wondering, what is the air hygiene operative course like? Is it difficult? What do I have to do? Will I be cleaning and using machines? What if I don't pass the exam?
Well, to answer some of these questions, I decided to take this 3-day course at Hasman's training centre in Liverpool.
Travelling from London, I had a few options, I could drive – they have free parking on site. Train? I could go directly from Euston with only a ten-minute taxi ride to Sandon Way. Plane? Perhaps an extreme choice from my location, but to fly in is an option for those further afield – Liverpool's airport is 30 minutes away from the training centre.
Day 1
The course started in the training room at 9am with our trainer for the next few days, Jack Friend. Complimentary coffee in hand, we ran through the register of attendees and the important stuff such as fire alarms/drills, exits, first aid and general safety in the centre.
We were handed course material in branded folders over an inch thick! These were ours to keep, thankfully for a beginner like myself, this was very welcomed revision material.
The presentation to begin the course was all about legislation, health & safety and current standards and practices for the industry. Thankfully this was the hardest part of the course, and the day was broken up with a mixture of theory in the classroom and practical in the training area.
The training area was far more extensive than I imagined, a huge air handling unit to one side of the building, with supply and extract ductwork going through walls and ceilings simulating real-life situations including awkward fire dampers!
Day 2
The following day started with more learning in the training area, identifying common parts of AHU units and ductwork, including vents, different types of filters, various fire dampers, access panels/doors of different shapes and sizes and even different type of ductwork other than the usual steel. We were challenged to more hands-on problem solving, in which we had to identify broken/missing/incorrectly installed ancillaries and how to deal with each of these situations.
We were able to take a look at different equipment used including, rotary brush machines, hand drill cleaning, negative air machines and various tools for fitting access panels.
Back in the classroom, we learned lots more about technical drawings, schematics, and equipment. It was an opportunity to work in a group and ask lots of questions and share experiences on the field.
Final Day – Exam
It was time to put our training to good use starting with the theory exam. This was a paper exam made up of 60 multiple choice questions with an hour and half to answer all the questions. This was plenty of time to get my paper finished, once completed, we were able to pass them to Jack to mark and got our results instantly. Passes all round! Time for the practical exam.
Moving to the training area, we worked as a team and given a "job from the client" to work on. This occasion it meant cleaning the AHU unit, and ductwork. We had three hours to complete this, and during, we all had individual tasks to perform – such as, checking fire dampers, fitting access panels and taking PVT samples and correctly recording the result.
This was probably the first time in my life that I have found an examination enjoyable. It was challenging yet interesting and great way to learn to use all the different equipment.
I was surprised to learn that I had passed the practical exam and that meant I was able to obtain my Air Hygiene Operative Certificate.
I thoroughly recommend anyone taking the opportunity to attend this course. I left feeling more confident in my knowledge of AHUs and fire dampers as well as being able to clean an entire system.