Why Choose Hasman For Ventilation Training and Equipment?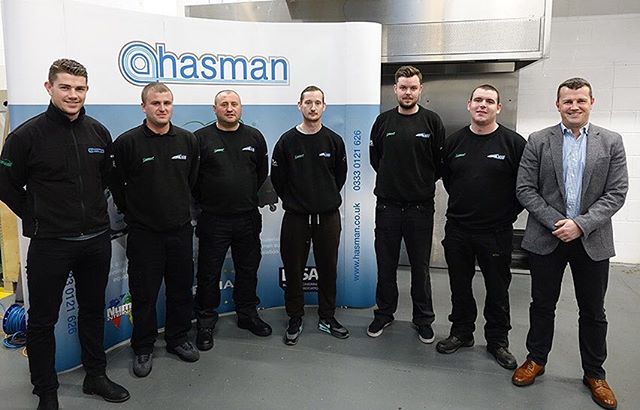 Hasman are the leading provider of ventilation training and have supplied qualifications to aspiring engineers across the UK and beyond for many years. We offer a large range of HVAC cleaning training courses that have left our customers with expert industry knowledge and experience and allowed them to confidently carry out their training in the workplace. We also have partnerships with leading brands in the industry such as the Building Engineering Services Association (BESA) and Lifa Air. If you're looking to excel in your engineering career ensure that you learn from the best in the industry. Here's why you should choose Hasman for ventilation training and equipment.
Expert Industry Knowledge and Experience  
We have over 40 years experience in the ventilation industry and so are well equipped to provide training in the following areas:
We are up to speed on all industry standards and regulations and provide cleaning training courses that all follow tr19 regulations to ensure good practice and health and safety when cleaning duct work.
In each of our cleaning training courses our experts provide delegates with their expert knowledge in both a practical and theoretical sense. Each course takes you through how to carry out the work, safe working practices, principles, preparing the work location, being able to confidently select the correct equipment and methods for the job at hand, as well as being able to solve complex problems if they should arise.
State of the Art Facilities
For quality training and experience we have a large BESA approved training centre in Liverpool that is equipped with all of the latest technology to give real hands on experience of ventilation cleaning so that delegates can confidently and competently carry out this work in a real environment. We allow you to put into practice what you have learned in the classroom.
During each of our cleaning training courses you will be able to use large pieces of technical equipment such as rotary brush machines, negative air machines, vacuum cleaners, duct inspection equipment and access panels, as well as all of the accessories. We use the very best branded powerful equipment such as Lifa Air to complete a thorough job. Knowing how to use these types of equipment will be valuable in your cleaning operative career.
We also supply this equipment which you can purchase through our website, to take you through a successful career in this industry.  
Practical and Theoretical Training
Not only do we offer hands on training, we also cover everything there is to know about this industry in our classroom sessions. In these sessions you will acquire the relevant knowledge to be able to carry out the work and pass your assessment. We take you through legislation, reporting, how to understand technical drawings, planning, plus much more!
World Renowned Ventilation Training Courses
We don't just provide expert ventilation training in the UK, our expertise expand to our European customers too. You can visit our training centre or we can come abroad to you with equipment and our cleaning training courses. Our training is highly rated which is why we have people from all over choosing to learn their trade with us.
If you're interested in any of our cleaning training courses you can book directly through our website or call 03333 443 780 for more information. We have various course dates running throughout the year which fill up quickly, so avoid disappointment and book your course today!