The Importance Of Fire Damper Testing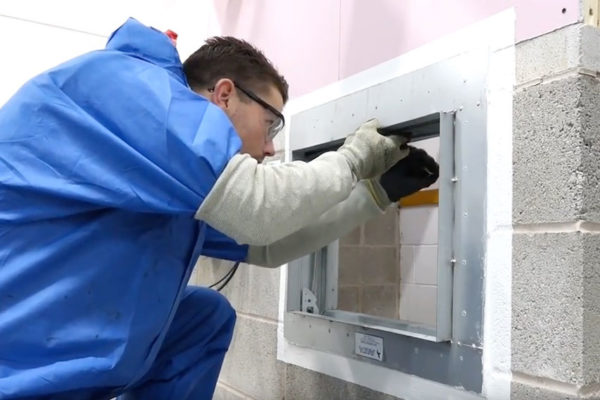 Commercial buildings must have strict fire safety procedures in place for the safety of the people who occupy or work in the building. Many employers and building owners are not aware that having their fire dampers tested annually is a statutory requirement, they may not be aware of the updates laid out in BS9999:2017 in regard to fire damper testing. Fire dampers are a critical part of a buildings fire safety plan and must be checked and inspected annually.
What are Fire Dampers In Ductwork?
Fire dampers are lifesaving equipment designed to mechanically prevent the spread of fire and/or smoke. There are many kinds of mechanical and electronic dampers available on the market from a range of different manufacturers.  
In the event of a fire, a mechanical damper is designed to spring shut and stop the spread of fire through the HVAC system into other areas of the building. Electric fire and smoke dampers not only prevent the spread of fire, they also stop the spread of hot or cold smoke through the HVAC system.
Fire Damper Testing
Many buildings are fitted with fire dampers, however, due to often restricted access, fire dampers may be difficult to access to maintain. More attention is sometimes given to more visible fire safety equipment such as fire alarms and sprinklers, meaning fire damper testing can be neglected.
Regular fire damper testing gives peace of mind that if a fire were to break out there is less chance of the fire spreading throughout the building.
Fire dampers should be tested on installation and annually thereafter. Fire damper testing should be conducted by trained professionals who will be able to access these restricted areas with little disruption to building operation. Hasman Training offers a fire damper testing training course that helps engineers to learn both practically and theoretically.
Fire Damper Testing Competence Course By Hasman
There are various types of fire dampers and our courses ensure that engineers are prepared for encountering any of them. Upon completion of the one day Fire Damper Testing Competency course, candidates can receive a CPD certified qualification that will enable them to safely and efficiently carry out fire damper testing in accordance with industry guidelines.
The course consists of training candidates in testing and resetting various types of both mechanical and electronic dampers, inspecting fire stopping, and reading schematic and technical drawings. Fire dampers are important pieces of specialist equipment and should be tested by confident and trained engineers. This course gives hands on work experience so that candidates become confident in their ability to carry out this work in the real world.
Whether you're looking to deliver independent training to your existing staff, or are looking to deliver fire damper testing as a new service, ensure that you're trained independently by Hasman. We keep our courses up to date with industry standards to make sure that candidates are ready for any challenges. If you'd like to learn more about our Fire Damper Testing Competence Course or any of our other available courses, don't hesitate to get in touch with our expert team by calling us on 03333 443 780.