The Hasman Training Facility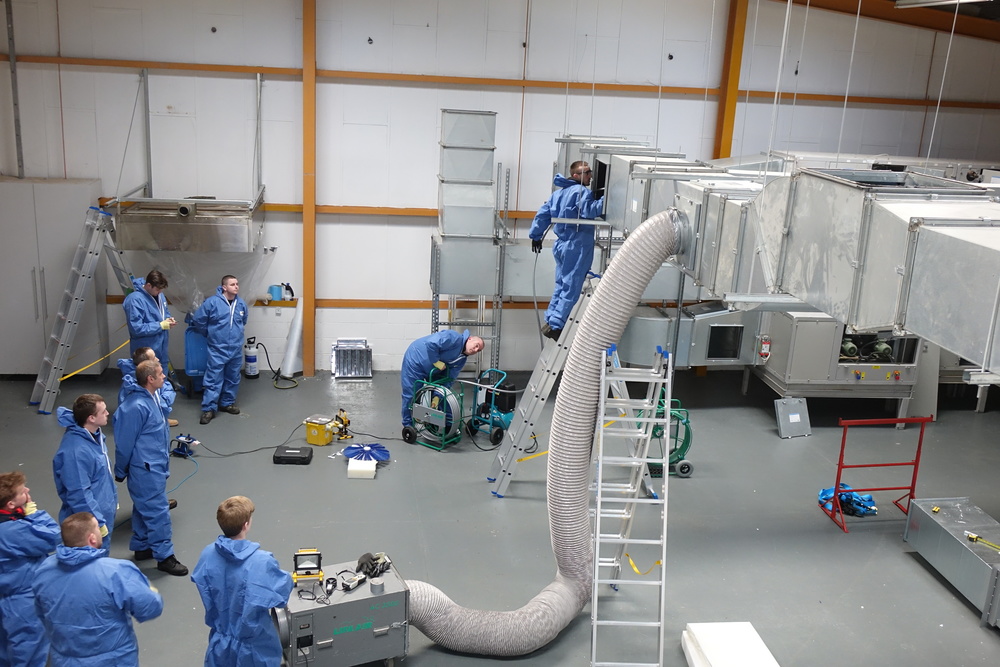 One of the reasons that Hasman training is considered to be the best in the industry, is the environment in which it is delivered. Engineers cannot be properly prepared for the world of work without hands-on experience, but working hands-on without proper training could be dangerous. Hasman provides the optimal solution to this catch 22 by delivering industry approved courses in a purpose-built training facility that simulates real working conditions.
At our facility, beginners can gain practical experience of a range of working scenarios, safely guided and supported by our expert tutors. More experienced engineers can develop new skills, add CPD hours and gain experience of working with the best equipment available in the industry.
World leaders in ductwork training
Our training facility has attracted attention and received acclaim from across the world. Hasman is an active member of the European Ventilation Hygiene Association (EVHA) and the body has used our facility to run courses and meetings for international delegates.
Well equipped
Contained within our state-of-the-art training facility is large classroom,
operating theatre specification AHU
heat recovery ventilation unit
fire damper testing area
full kitchen extract system, including a Halton UV canopy
fume cupboard LEV
over 50m of high level ductwork
In addition, we also work with our partner Lifa Air to provide trainees with experience of using industry leading equipment.
As a result of our extensive set-up, there are few scenarios we are not able to simulate. Candidates training with us have the opportunity to gain hands-on experience and to be assessed in one-the-job conditions, to ensure competence.
Associations and partnerships
As mentioned above, Hasman is proud to be an active member of EVHA, meeting regularly to discuss the development of the international ductwork cleaning industry. Closer to home, Hasman is also active within the Building Engineering Services Association (BESA); all courses have been designed in consultation with the the industry body and are approved by them. Hasman's Liverpool site is a BESA approved training facility.
Hasman's equipment partner is the world renowned Lifa Air. This partnership has brought the Hasman team experience of working on high profile projects across the world. It also means that our facility is equipped with the best cleaning and testing tools there are.
Types of training carried out at our facility
Hasman training courses cover all aspects of air hygiene, grease hygiene and fire damper testing.
The types of training and assessment carried out in our ductwork training facility include:
the testing of 'in airstream' and 'out of airstream' fire dampers, in accordance with legislation and industry guidance
preparing the work location for ductwork cleaning
cleaning of general ventilation systems and associated components
cleaning of grease extract systems and associated components
working sustainably
Training with Hasman
Based in Liverpool, the Hasman training facility is central within the UK and within easy access of major motorways and airports, making it a convenient choice for industry training. We run all of our courses regularly throughout the year. Dates can be found in the training section of this website.