Hasman Ltd. deliver the first pilot of new BESA GHO qualification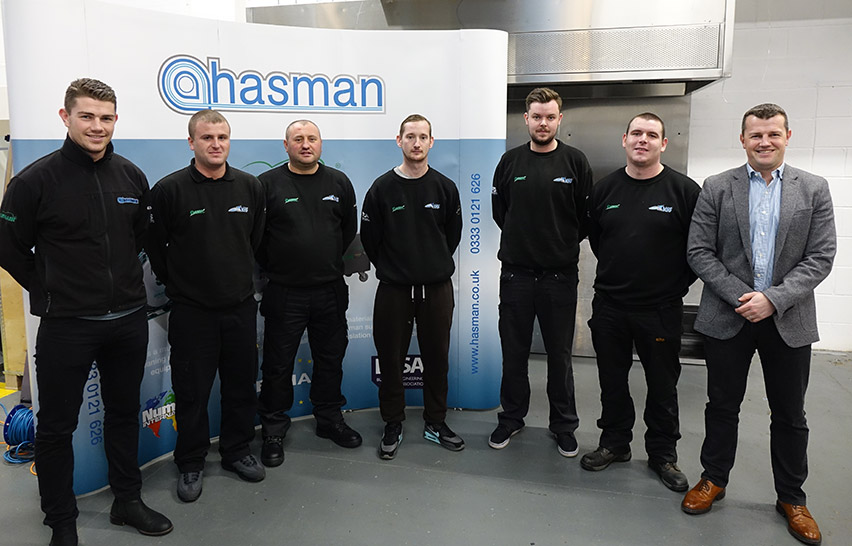 The theory and practical of grease cleaning
Hasman has just finished delivering the first pilot course for the new GHO (Grease Hygiene Operative) qualification being developed by The BESA.
There will be a further 2 pilot courses delivered by The BESA approved training centres in the next two weeks.
Once all three pilot courses are complete the GHO qualification will become available and all applicants will be fully qualified in grease cleaning.
This will be the first qualification of its type, certifying competency to work as an operative on kitchen extraction (LEV) systems and kitchen duct cleaning.
The course requires candidates to be CSCS trained before they attend, and then educates on theoretical and practical knowledge.
There are both practical and theoretical assessments which must be passed on the final day of the course in order to achieve the GHO qualification from the BESA training.
The pilot was delivered to five members of staff put forward by Ventilation Surveys & Services Ltd at the Hasman training centre in Liverpool.
It is an exciting time for the industry, and a watershed moment, which will raise the standard of the work being carried out across the UK.
The BESA will soon be offering three other qualifications as well as an apprenticeship scheme.
This progress towards formal qualification and certification is long overdue, and wouldn't have been possible without the co-operation of the ventilation hygiene service companies within The BESA.
For more information please contact Hasman on 03330 121626 or visit The BESA website at https://www.thebesa.com/training/training-and-assessments/ventilation-courses/ .