How to Prevent Commercial Kitchen Fires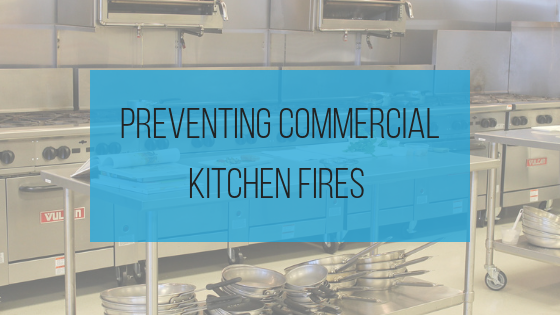 When operating a commercial kitchen it is important never to become complacent about health and safety, in any regard. As well as the most obvious day-to-day hazards to health and safety, such as hot ovens and sharp knives, the risk of a fire in a kitchen that is not properly tended to is relatively high. Our Grease Hygiene Operative course teaches the approved method for commercial kitchen duct cleaning, which is an imperative step that must be taken in the maintenance of all kitchens, if fires are to be avoided.
In addition, there are a number of simple but crucial steps that can be taken to avoid a fire in your commercial kitchen, that may not be immediately obvious to someone new to the industry.
Make sure all equipment is in good working order
Faulty stoves, gas leaks and dirty fryers all pose a significant fire risk. Ensure that all equipment is not only checked regularly by Gas Safe engineers to be certain that they're in proper working order, but that they're also thoroughly cleaned, to limit the amount of grease and other flammable substances in the vicinity.

Regular maintenance of appliances by qualified professionals are advised.

Have your sprinklers regularly checked

It is not enough to simply have sprinklers. They can become eroded over time or, in some instances, blocked. Regular inspection of your sprinkler system can be the difference between a fire that lasts two minutes and saves lives, and one that destroys a business.

Clean oil and grease from everywhere
The instruction to keep a kitchen clean may seem obvious but it's worth mentioning. Perhaps when most people clean their commercial kitchen their primary concern is hygiene but staff should also be trained to recognise grease spills as a fire risk.

Additionally, grease collects in places that aren't immediately apparent. That is our area of expertise and leads us to our final point…

Ensure proper commercial kitchen duct cleaning takes place
Grease is highly flammable and one of the places where it collects in a commercial kitchen is in the ductwork. The chances are that you have a canopy on your kitchen extract system which, along with the accompanying filters, is easy for your team to access and clean. Keeping this section free from grease is hugely important because a build up of excess grease, could catch fire.

Even if you do keep your filters clean, some grease will make it through. It's unavoidable. That is why proper commercial kitchen duct cleaning is an imperative addition to your cleaning schedule. The ductwork itself is unlikely to be readily accessible for every day cleaning, usually running inside the ceiling and often passing through numerous floors. However, all of the hidden parts of this ductwork still need to be cleaned for fire safety, as well as hygiene purposes.

At Hasman we run a regular three day Grease Hygiene Operative course that trains participants in the proper methods of commercial kitchen duct cleaning. To prevent commercial kitchen fires, you should ensure that your own ductwork is cleaned, according to TR19 guidelines by professionals who are trained in this area.
If you would like to begin your career in this industry give us a call on 03333 443 780 to book onto our Grease Hygiene Operative course.