Hasman Practical Cleaning Training Courses – What's Involved?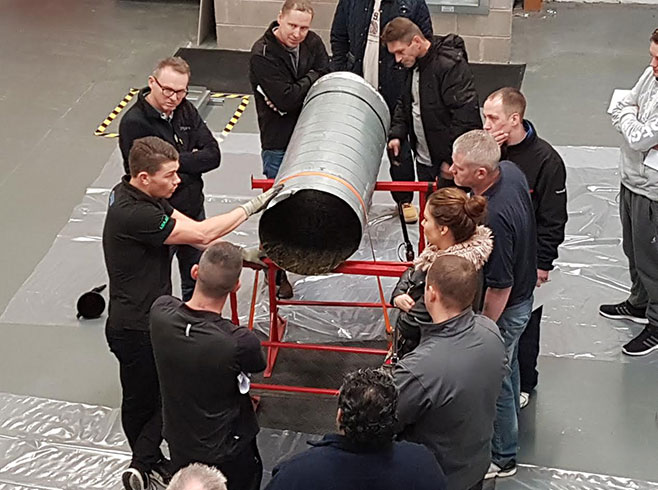 For many people, the best way to learn is through hands on, real life experience of the job in hand. In the ventilation industry practical training and experience is a necessity to ensure that we produce confident and competent engineers to carry out ventilation hygiene maintenance safely, and to ensure that they know this job inside and out. Here at Hasman we have a huge facility that's complete with industry equipment and classrooms to cater for many types of cleaning training courses. Here's what's involved in the practical side of our cleaning training courses.
Training
Every aspect of the training is important but the practical side of each course is a chance to put in place the skills you've learnt and demonstrate that you understand the relevant theory. During practical training you will get to know exactly how to carry out different types of ventilation maintenance depending on the course. Our courses include:
Practical training on each of these courses consists of planning and preparing the work location, selecting and using the correct equipment, tools and material. You will also be trained on the practical specifics of carrying out a particular jobs such as inserting suitable access panels and using rotary brush machines. As well as this you will carry out reporting and testing in accordance with industry guidance. All of the practical training has a focus on safety so each exercise will be carried out following health and safety standards. Our practical cleaning training courses are delivered by expert tutors with years of experience in the industry, meaning your always in safe hands.
Equipment and Facilities
At Hasman we carry out practical training in our large training facility based in Liverpool that has a classroom and facilities which replicate real life ventilation systems. In our premises we have a heat recovery ventilation unit, a full Halton UV kitchen extract LEV system, over 50m of high level ductwork and a fume cupboard LEV. As well this we also have a Barkell operating theatre specification AHU and all of our facilities and equipment are state of the art.
We only use the very best and latest technology to carry out ventilation work to provide engineers with quality training that is valued all over the world. We have all of the equipment needed to carry out your training such as rotary brush machines, negative air machines, vacuum cleaners, duct inspection equipment, access panels and accessories. We work with reputable manufacturers who are the best in the industry such as Lifa Air. On each course you will be trained on how to use these pieces of equipment safely.
Book Your Cleaning Training Courses With Hasman Today!
Practical training is probably the most important part of your course which is why we only use quality facilities and equipment. However, theory training is just as important and you will receive some theory training which will help towards your final assessment. You can book onto any one of these courses simply by following the link on our website or calling 03333 443 780.