Our Range of Ductwork Inspection Equipment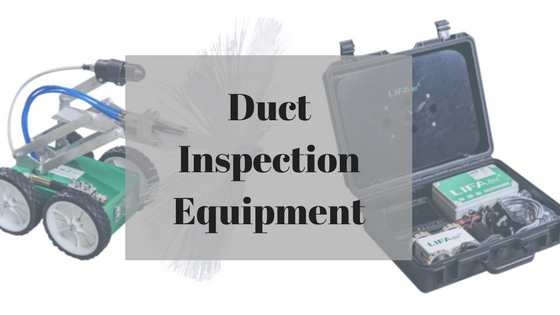 We stock a broad variety of duct cleaning and inspection equipment here at Hasman, as we're keen to provide a range of options for people searching for quality equipment to help them with ventilation cleaning. Our ductwork inspection equipment range includes a variety of important and valuable tools that can be hugely useful for ductwork inspection.
We only stock high quality products in our duct cleaning and inspection store, and each item can be a valuable addition to a duct inspection toolkit. Learn more about our products here!
Duct Cleaning Robot
Our duct cleaning robot helps with commercial cleaning jobs that would have previously been considered impossible due to inaccessible ductwork. The 12V electrically driven robot includes a video inspection system and a brushing attachment for cleaning. This means that video footage can be recorded for post clean verification. This is an excellent way to further report cleaning works to clients – clrly highlighting cleaning and any system issues found.
The four wheel drive robot is driven with a joy-stick controller, and the brush rotation works via a pneumatic motor that is driven by a compressor. While using the robot you'll have a 25 meter reach and the ability for brushing and air-jetting/liquid spraying at the same time through a separate hose. The robot is available with a selection of brushes to choose from.
Duct Cleanliness Vacuum Test Pump
This duct cleanliness vacuum test pump comes with a protective plastic carry case as well as a shoulder strap, battery charger, magnetic template and a small screwdriver. This 10x10cm magnetic template for PVT testing method is in accordance with both TR19 and BSEN15780, and comes with a shoulder strap that allows you to use the pump if you're working from a ladder, as well as making carrying the pump easier. This is an essential tool for post clean validation as per TR19, it will also come in useful for survey work and making judgements on cleaning frequencies for HVAC systems.
Duct Control Mini
Our Duct Control Mini is the perfect solution for inspecting usually inaccessible ductwork and pipework, as the unit has a 20m range and is able to record video. DC Mini may be fitted with a rear view camera as an additional extra. Clever design means that should the DC mini flip or rotate over inside the ductwork it can still drive while upside down! The whole unit neatly stores inside a single heavy duty plastic carry case.  This unit is able to drive up inclines and is a great tool for any surveyor work or cleaning verification that you might need to carry out.
PVT Vacuum Test Capsule
Our pre-weighed PVT vacuum test capsules come ready for use with a dust inspection pump. They test duct cleanliness in accordance with BSEN15780 and TR19. The cost of analysis is included with each capsule and each analysis form has to be completed correctly and sent back to our laboratory. The capsules are sold individually, are pre-weighed and have a unique ID number issued by the laboratory.
Find your ductwork inspection equipment at Hasman Ltd
Our range of equipment is available to you whenever you need it. If you're interested in purchasing any equipment from us you can visit our store or get in touch with a member of our team on 03333 443 780 with any questions that you might have.