Our Grease Hygiene Technician Training Course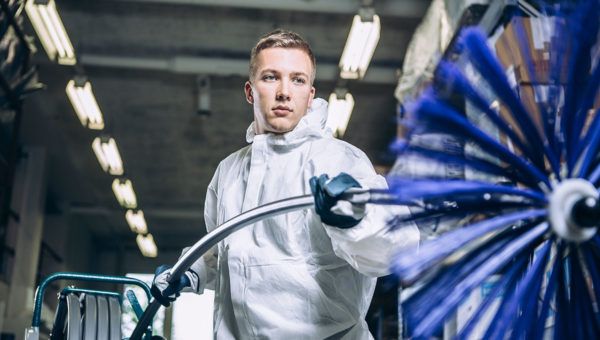 Are you looking to take your career in the building engineering services grease extract hygiene industry that one step further? If you currently work within this industry and have industry knowledge and experience but would like to step up into a higher role, you will need training by industry leading training providers. Here at Hasman we not only provide delegates with basic training to work in the grease extract hygiene industry with our GHO Course, but we now also offer a more advanced course entailing both theoretical and practical training.
Here's what our Grease Hygiene Technician Training Course involves.
What To Expect From Our Grease Hygiene Technician Training Course
To become a Grease Hygiene Technician, delegates will undertake a range of practical and theoretical activities on which they'll later be assessed to ensure they've grasped safe working practices and the duties involved.
Delegates will also learn the following;
The principles of kitchen grease extract systems and associated components
Planning and preparing the work location
Cleaning of kitchen grease extract systems and associated components
Supervision
Working sustainably
Pre and post clean testing and reporting
Not only do we train delegates on the ability to carry out grease extract hygiene work, this course provides delegates with the ability and knowledge to be able to supervise this type of work confidently.
Training That Meets Industry Standards
There is no better place to learn and gain skills from than those who are the top of this industry. All of our training courses meet strict industry standards so that you are confident that the work that you're carrying out is safe and effective.
As a course delegate you will also be able to confidently choose the correct cleaning methods and equipment for the job in hand, as well as plan and prepare the work location for the safe and effective completion of the job, as well as solving problems and understanding the financial implications involved with non-completion of works.
As a grease hygiene technician you have increased responsibility in the workplace and so having a proper understanding of health, safety and environmental issues within the workplace is of vital importance. On completion of this course you will have sufficient knowledge in managing others to ensure that the works are completed safely and on time.
This is an in depth and fulfilling course that provides accurate training in this field. Grease Hygiene Technicians should always be confident in their ability to carry out this work for the safety of themselves and others, as well as to produce effective results. We ensure this confidence is instilled into our delegates and that they leave fully qualified and certain in their abilities.
If you're thinking about venturing into a Grease Hygiene Technician role then we suggest you book one of our upcoming training courses today or give one of our experts a call on 03333 443 780 to find out more about this course.