The Importance of Kitchen Extractor Ducting Cleaning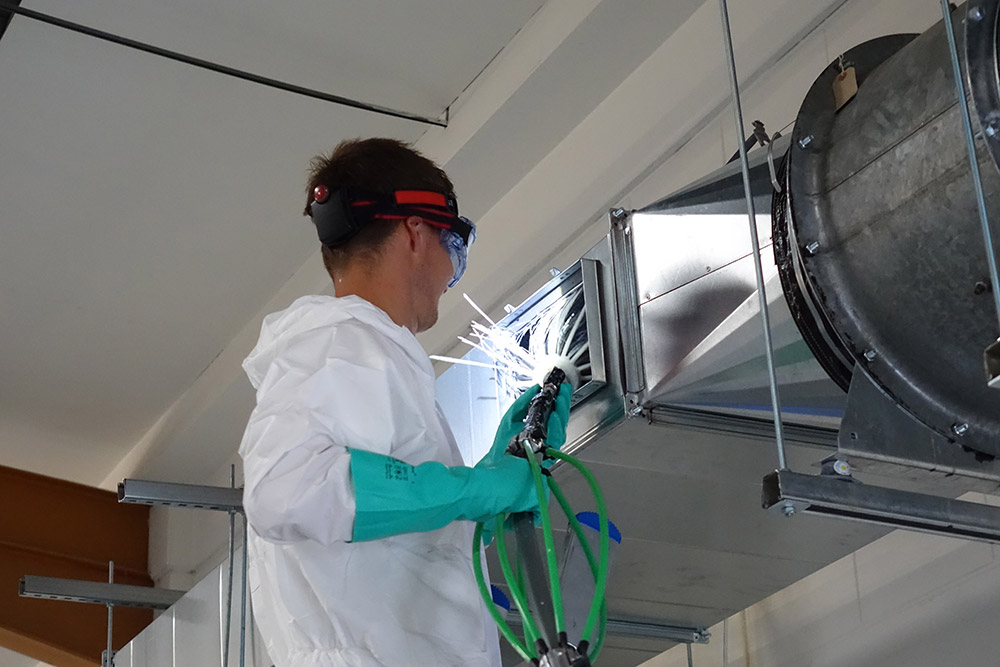 With large commercial companies it's easy for grease to build up in kitchen extractor systems over time, and if not properly and regularly maintained it can be a severe fire hazard. It is your responsibility as an owner of these commercial companies to have trained and certified grease hygiene operatives to clean kitchen extractor ducting whilst following health and safety regulations and standards.
Here at Hasman we can provide your staff with the appropriate kitchen duct cleaning training and skill set so your kitchen extractors are regularly maintained. So whether you're a business owner who wants their staff fully trained in grease hygiene or you're an individual who is looking to begin work in this industry, we have a Grease Hygiene Operative (GHO)  kitchen duct cleaning training course that will give you all the expertise and certification that you need to carry out this work.
How does kitchen extractor ducting cleaning work and why is it important?
Kitchen extractor duct cleaning is the process of removing grease from the ducts for hygiene reasons and protection from fires. Large commercial kitchens are often found in restaurants, hospitals, cruise liners, offshore rigs, aviation, and pharmaceuticals, industries where hygiene and healthy and safety regulations are essential.
They have a duty of care, particularly in kitchens where food is cooked and served and this accumulation of grease is unhygienic and extremely unsafe. Regular inspections are carried out on kitchen extractor ducts, so ensure that you have properly trained grease hygiene operatives who are carrying out your kitchen extractor duct cleaning.
The process of cleaning the kitchen extractor system firstly involves scraping away the build up of grease as pictured above, followed by washing the extractor clean with a combination of caustic chemicals and hot water which is safe for kitchens. The extractor is finally polished for a sparkling and clean appearance.
Our training in this area ensures that the grease is removed in a way that does not cause further problems in the future such as clogging.
Grease Hygiene Operative Course (GHO)
Hasman's Grease Hygiene Operative course involves both practical and theory testing to meet industry standards. This course entails the following elements:
Safe working practices

The principles of kitchen grease extract systems and associated components

Preparing the work location

Cleaning of kitchen grease extract systems and associated components

Working sustainably

Problem solving
We will also train you on how to use the necessary materials, tools and equipment to carry out such work. For just £600 you will gain valuable expertise in this industry and be provided with certification. Find out more about what you will gain from this course on the Hasman Training site and book online or by phone today.