The Equipment You Need For Duct Inspection and Duct Cleaning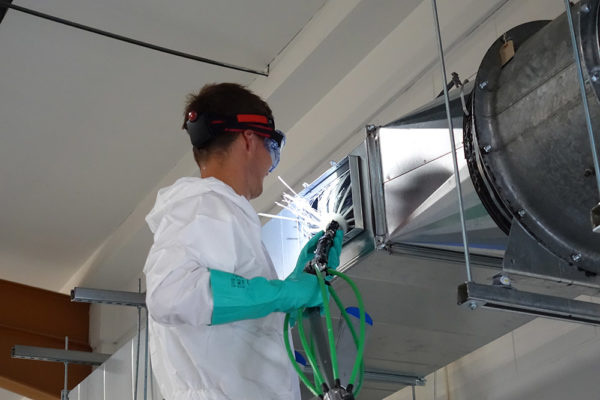 Here at Hasman we don't just train engineers to carry out duct maintenance work, we also provide cleaning operatives with the essential equipment needed to carry out the inspection of duct systems and the cleaning and removal of dust and debris from ducts.
Inspecting the ductwork is the first stage in maintaining a fully functioning HVAC system so that air can flow through freely. We have a range of duct inspection equipment from CCTV equipment to test pumps, WFTT combs and much more!
Once inspection is complete, you can get to work cleaning the duct system with our state of the art range of Lifa rotary brushes, negative air machines, and our range of vacuum cleaners. Read on to find out more about the essential pieces of duct inspection and cleaning equipment to clean duct systems in commercial or industrial settings.
Rotary Brush Machines
Rotary brush machines are one the most popular and effective methods of removing grease and dust from ducts. They are specifically good for sweeping away and removing dry dust which is likely to build up in the ductwork of commercial buildings. Our Hydmaster rotary brush machine uses a hydraulic motor to rotate the brush with high torque to remove dust thoroughly and easily.
The Lifa Hydmaster 40 is one of our most powerful rotary brush machines as it delivers a fantastic 10Nm of torque. This machine is also quiet in operation which is ideal for avoiding disruption in commercial buildings.
We have a large range of rotary brush machines in a variety of sizes and motor options so you're sure to find the one that's right for you!
Duct Cleaning Robot
Inspect your duct system and clean at the same time with a duct cleaning robot. This piece of ductwork inspection equipment is ideal for those hard to reach, inaccessible areas of ducting. The duct cleaning robot has four-wheel drive, is controlled by a joystick, and has a video camera attached so you can easily inspect the duct work and supervise the cleaning that the machine is carrying out.
This machine has a 20m range and is ideal for ducts with a height of between 200m-700m, so if you have previously struggled to inspect or clean difficult to reach areas, a duct cleaning robot could be perfect for you
Vacuum Cleaners
The vacuum cleaner is one of the most traditional and simple methods of cleaning and is often used for the removal of dust and grease from duct systems.
We have a range of vacuum cleaners that can clean both ducts and fire dampers. The Numatic Wet Vacuum Cleaner WVD570 in particular is the perfect choice for removing both dust and grease. Unlike other vacuum cleaners, this machine can alternate between both dry settings and wet settings which makes it easier to remove tough grease build up. This 2-in-1 machine will save you the cost of buying two different types of vacuum cleaner, so if you're looking for value for your money, this is a safe bet.
Duct Cleanliness Vacuum Test Pump
The duct cleanliness vacuum test pump is an essential piece of equipment for any cleaning operative. It enables you to carry out PVT testing and sampling to measure surface deposits of dust within the ductwork. The pump includes a battery charger, magnetic template, and small screwdriver, and is all contained in a professional waterproof plastic carry case with a shoulder strap to make working on a ladder easier. This addition to your duct cleaning equipment will certainly make inspecting ducts much easier and more effective.  

Purchase Your Duct Inspection and Cleaning Equipment From Industry Leaders

It is important when carrying out duct cleaning work that you're qualified, have had training that meets industry standards, and that you're using equipment that effectively, efficiently and, most importantly, safely removes dust and grease from ducts.
All of our equipment follows TR19 standards and are of the highest quality which makes cleaning duct systems faster and easier. Browse our website to see more of our duct cleaning equipment and give us a call on 03333 443 780 if you'd like to find out more about our products.