Our Essential Air Duct Cleaning Equipment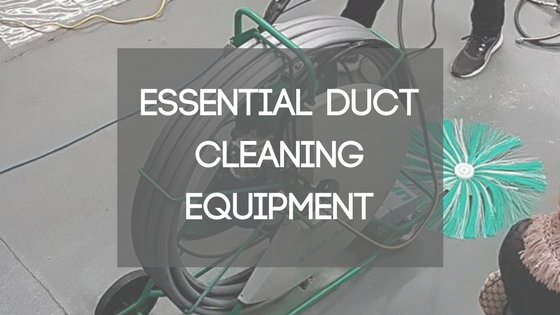 We have a wide variety of products available on our site that will help you in your search for your ideal duct cleaning equipment. However, there are several items that are especially valuable so we decided to highlight a few of these essential air duct cleaning equipment products so that you can build your inventory.
Our Air Duct Cleaning Equipment Spotlight
It was hard to narrow down the equipment that we believed suited this list, as all of our equipment can come in useful on air duct cleaning jobs. However, we managed to narrow a shortlist down to three items, which we believe can massively improve the service that you offer!
Hydmaster 40
The Hydmaster 40 is the most powerful rotary brush machine currently available on the market, so we're incredibly proud to have this patented design available on our site. This machine has a hydraulic motor that is able to deliver an incredible 10Nm of torque! This high power means that grease and dust removal is easy with the Hydmaster 40. It is also incredibly quiet while running so you won't have to worry about creating any disturbance while cleaning and, with 40m of cleaning cable, this machine is great in terms of ensuring maximum vent accessibility.
Centering Device
Our centering device is another highly important accessory to add to any rotary brush machine as it can significantly improve the quality of cleaning you can offer to your clients. The centering device allows the brush head to stabilise while inside large ducts, and should always be used if the ductwork you are working in is larger than 350mm in width. This centering device is made with adjustable arms that can match the size of the ductwork that you are cleaning, so you know that you're covering all of the hard-to-reach areas that might not necessarily be cleaned otherwise.
Air Clean 3500
The Air Clean 3500 is a premier negative air machine that can be used for ductwork cleaning. The machine "pulls" air through long sections of ductwork to capture any deposits that have been released during the cleaning process. This machine has excellent suction power, and features a robust metal design.
You can use the Air Clean 3500 for HVAC duct cleaning when you partner the machine with a brushing system, and it can also be used for a variety of other tasks, such as:
Building renovation

Water damage work

Demolition

Mould and microbial removal

As an air scrubber – must use a carbon filter with the machine
With an intelligent slow fan start up, you'll be able to guarantee that the unit can start up safely without tripping normal 3 KvA transformers or any construction site power supplies. The machine uses a quiet operating EC motor and is electrically operated by a single phase current at 230V/50HZ, with some 110/120V and 60HZ models available. This portable unit can be used for any heavy-duty professional use that you may require, and has a large variety of additional filters available, including a gas filter.
Perfect Air Duct Cleaning Equipment For You
If you're interested in any of the essential air duct cleaning equipment we've talked about in this list, or want to find out what else we have on offer, check out our full range of products. When you find the products you need, you can buy them immediately through our site or contact a member of our team by calling 03333 443 780.