What Is DW143 Leakage Testing And Why Do I Need It?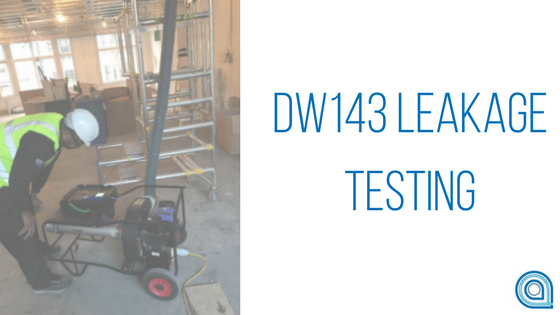 We know the importance of leakage testing for HVAC systems and ductwork here at Hasman, which is why we offer a nationwide ductwork DW144 pressure testing service in accordance with BESA DW143 leakage testing  guidelines. This service places ductwork under fixed pressure to ensure that leakage is not greater than allowable rates stated in BESA DW144.
Airtightness is crucial to ensure a ductwork system performs as designed. The need for ductwork pressure testing is increasing as more architects and new building projects specifications request it. The test evidences that the ductwork has been installed correctly. Leakage testing is mandatory on medium and high class ductwork systems, which are installed in environments where ventilation performance is critical, such as hospitals. Leakage testing of low class systems isn't mandatory but may be requested.
Pressure testing isn't just for new construction projects, it can also be carried out on old systems to check their condition. Many low class systems will have never been tested when they were installed, meaning they could leak significantly, wasting energy and failing to deliver the right volume of air for the building.
Who might ask for DW144 pressure testing?
Ductwork pressure testing may be requested by the architect to ensure that the ductwork contractor has carried out a satisfactory install. A building's owner may want testing on their existing systems as a means of checking performance, often areas of a building suffer from poor ventilation contributed to by leakage. Testing is also useful for energy consultants in assessing a buildings efficiency, a leaky ductwork system can have very poor energy efficiency.
Hasman's ductwork leakage testing in practice
All of our staff are fully trained in using state of the art equipment for DW143 leakage testing, as well as all testing methods and calculations. Staff members all hold CSCS cards for work on construction sites. Our testing rigs are calibrated by BSRIA, and all site equipment is checked and tested to ensure it is fit for purpose in the construction environment. PAT testing records can be supplied prior to works commencing within our Risk Assessment and Method Statements for works.
Tests are carried out by dividing the ductwork system into sections that are manageable to pressurize. We keep plenty of reusable blocking materials, like high density foams. Test areas are placed under appropriate pressures with the results then calculated and witnessed by the client for sign off. Instances where levels of leakage exceed the allowable rates are frequent, so traditional methods are used by the ductwork contractor to attempt to reduce ductwork leakage, such as adding clamps, fixings and mastic to increase airtightness. If there is difficulty accessing the area to fix the issue, or there are dramatic improvements required to improve the airtightness of the ductwork, then our Aeroseal services may be quoted as a solution.
What does DW143 state?
DW143 states all testing pressures and procedures for systems from class A to D. Ductwork can be of different construction and design, and different class systems can require testing at higher or lower pressures. High class C and D systems are tested with higher pressures than lower classes, similarly, positive pressure ductwork is tested at different pressures to negatively pressurized systems. It's important that a ductwork system is tested in accordance with this guidance to ensure that accurate results are found.
Booking your DW143 leakage testing service today
We're proud to offer services that meet all of the industry regulations and requirements that have been specified in DW143. If you're interested in booking our services today then you can get in touch with a member of our team through our contact page or by calling a member of our team on 03333 443 780.