Hasman Signs New Training Agreement With Northernshire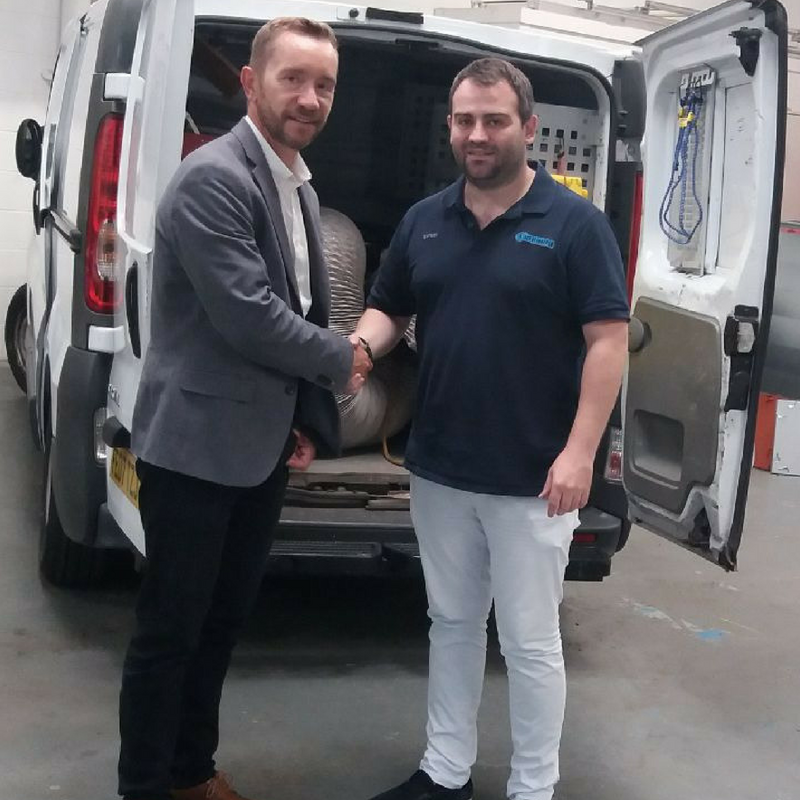 Hasman is becoming renowned for its specialist BESA approved duct cleaning training courses and is the number one choice for ventilation cleaning companies to have their staff trained in this industry. Northernshire is the latest ventilation hygiene company to have their staff trained to the highest standards by Hasman. As a company that works to industry guidelines and standards, the abilities of their staff needs to reflect this. At Hasman we offer all four BESA short courses which adhere to TR19 regulations and provide the highest level of training, expertise and practical experience.
Graham Heath, Director of Northernshire, has signed a training agreement with Jack Friend of Hasman Ltd in July 2018, committing to put 30 Northernshire site staff through Hasman's BESA approved training centre in Liverpool.
Both Hasman and Northernshire are looking forward to this partnership.
Mr. Heath said:
Northernshire has always looked to be forward thinking and keen to ensure that our engineers view their job as a career. We are only as good as the staff we send to customers premises therefore we treat our operatives as engineers and view these courses as a way of endorsing our workforce. We originally sent two members of staff through the Grease Hygiene Operative Course a few months ago and when our operatives returned to work they commented that they had learnt a great deal through both the practical and theoretical learning that the course provided them with. We are committed to supplying our customers with the best service possible and also committed to the continuous professional development of our workforce. We are proud to commit to place all of our relevant workforce on the new BESA approved Grease Hygiene Operative competency scheme over the next 12 months and will also be sending engineers on the Technician course to further enhance the knowledge of our staff.
Jack Friend Managing Director of Hasman Ltd welcomed the agreement between the two parties saying:
We have been running the new BESA schemes for just over 12 months now and this agreement shows that awareness of the courses throughout the industry is growing and companies are embracing the upskilling of staff to raise standards. I would like to thank Graham for his commitment to raising standards in the industry and we thank Northernshire for their commitment to placing their staff on these industry leading competency assessment schemes.
Why Choose Hasman for Duct Cleaning Training Courses?
With a combined industry experience of over 40 years we have a lot of knowledge to share with those who are working in the building engineering services or about to start work in this industry. We're always looking to improve this industry by using the latest modern techniques and equipment. Our state of the art training facility has everything you need to complete each training course including:
Classroom

Operating theatre specification AHU

Heat recovery ventilation unit

Fire damper testing area

Full kitchen extract system which includes a Halton UV canopy

Fume cupboard LEV and over 50m of high level ductwork
Our courses are efficient and in depth, your staff won't be taking too much time out of their work as the courses can be completed in just 3 days. The results that are achieved from the course and the wealth of knowledge and experience gained makes this time worthwhile.
Hasman are passionate about the ventilation hygiene industry and aim to deliver engineers who are equipped with the skills and knowledge to carry out duct maintenance work safely and competently.
Join our list of happy clients such as Northernshire and train your team with Hasman. Whether you need to have your staff trained on each course or just one area such as fire damper testing we have the resources and knowledge to improve the skills of your workforce. Take a look through each of our training courses to find out more about what each one offers. To book your team onto our BESA courses call Hasman today on 03333 443 780.