Our Commercial Cleaning Training Courses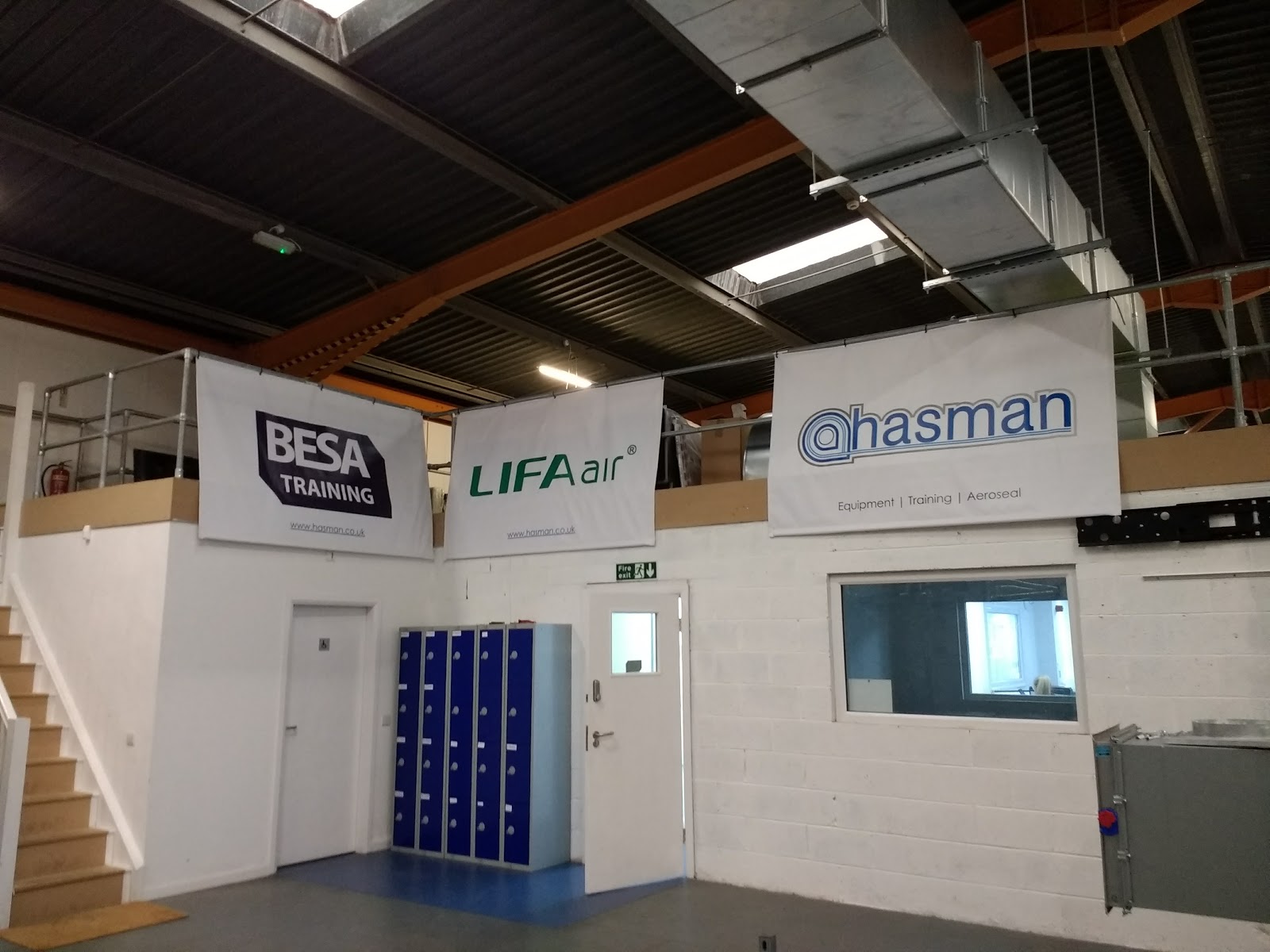 At Hasman Training, we're specialists in air duct specific commercial cleaning training. We aim to help you become specialists too, so that you can clean commercial air ducts, complete fire damper testing, and maintain air handling units to an excellent standard.
We offer a number of courses that cover different areas of vent cleaning, maintenance, and testing, so you can choose what specific area you want to learn about. Our training courses are comprehensive, in-depth, and practical giving you great value for your money. We believe that a practical approach is particularly important in commercial cleaning training to ensure that what you learn sticks.
All courses are delivered in our state of the art training facility, made up of a classroom, fire damper testing area, practice air handling unit, and various examples of ductwork. This facility gives you the chance to practice what you've learned in realistic scenarios, cementing your knowledge. In addition to this, our expert tutors are hugely knowledgeable, with over 55 years of experience in the industry between them.
Read on to find out about our courses and discover which one is right for you!
Fire Damper Testing Competence
Fire dampers are another integral element of ductwork systems, ensuring that buildings are protected from destructive fires spreading through ducts.
This course includes extensive theory and legislation classroom training, as its based heavily around ensuring safety in the workplace. Protocols and guidance specifications it covers include DW145, BS9999:2017, and BESA TB001.
In terms of practical learning, our Fire Damper Testing Competence course takes advantage of our excellent testing area and gives trainees valuable experience in a realistic simulated environment. Trainees will learn how to test and reset fire dampers, inspect fire stopping, and read technical drawings, among other skills.
This is a one day course that costs £30. It's also CPD certified so completion counts as 8 hours of CPD for attendees.
Grease Hygiene Operative Course
Our third course is aimed at trainees who work in the grease extraction hygiene industry. It gives a comprehensive and in-depth look into grease extraction hygiene, covering theory and practical bases.
Specific subjects covered include safe working practices, the principles of grease extraction systems, how to clean grease extraction systems, and how to work sustainably.
After completing our Grease Hygiene Operative Course, trainees will be experts in the field and should:
Have an understanding of the health and safety

Know how to prepare and plan for jobs

Have solid knowledge of the practicality of grease cleaning

Be able to problem solve in relevant areas
This is our longest course, at 3 days, and includes an assessment process consisting of a multiple choice paper and a practical exam. It costs £600 per person.
EDIT: We now also offer a Grease Hygiene Technician training course
Commercial Cleaning Training with Hasman
Our courses cover key elements of commercial duct cleaning and maintenance and help to get you up to speed with the latest theory and practical knowledge.
We've put a lot of effort into making them as engaging and useful as possible, and we think the result is a training course that teaches you lifelong lessons in your field.
If you're interested in one of our commercial cleaning training courses but want to find out more, don't hesitate to get in touch with us. You can reach us through our online contact form or by calling 03333 443 780.
If you already know what course you want to enroll on, book today to reserve one of our limited places for upcoming courses in 2018.